Double Twisted Woven Type
The primary structure of gabion wall is woven type with double twisted hexagonal meshes. It is a flexible but strong structure, which can withstand the torrential flood and impact. It has galvanized, zinc-aluminum alloy and PVC coated steel wire materials for different environments and condition use. The common mesh size of woven gabion wall is 60 × 80 mm or 80 × 100 mm and sometimes the 100 × 120 mm is also available. And common box sizes are 2 × 1 × 1 m and 3 × 1 × 1 m. special sizes and configuration are customizable.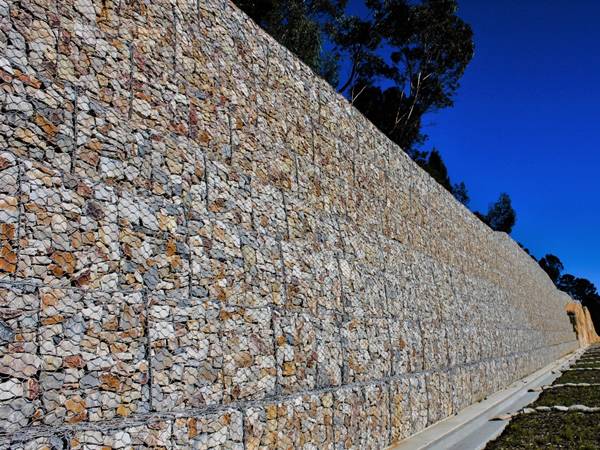 Welded Gabion Wall Type
As the technology improvement and markets' need. There are a type of gabion wall with welded structure, which has rigid structure without any deformation even it is filled with stones and other materials. Welded gabion wall is commonly made of 4.0 or 5.0 mm wire diameter steel wire through automatic welding to form a welded mesh panel with 76.2 × 76.2 mm aperture. Spiral wires or hog rings are supplied when installation. Just connect each part with spiral wires or hog rings, the whole structure is complete.
Flexible. The woven structure is flexible and won't influenced by the soil movements, which is better than those reinforced concrete walls.
Water permeability. Gabion wall are permeable and are not damaged by passing waters. It can permit the plant growing as well, which is benefit for river bank greening.
Environmentally friendly. All materials are recycled and won't pollute the waters and surrounding environments.
The easy installation and machinery operation make the projects effective than those rigid blocks which need lots of labors and times.
The gabion wall is longevity, durability and stability through its years of lifespan. And it need less maintenance.
Rigid structure and durable life make the reinforcement and protection easy.
Gabion wall uses all natural materials which can fits into the environments and make the site beautiful and high-class.
Double twisted woven gabion wall are used as gabion retaining walls for river banks, coastal and erosion control of slopes.
Welded gabion wall are widely used as gabion cladding wall in the residential and commercial sites for both utility and decorative use. Some of the welded gabion walls are installed beside of the river bank and under bridge for reinforcement and protection.