Gabion Barrier - Solution to Most Safety Problems
A gabion barrier refers to a rectangular wire mesh basket filled with rocks, stones, concrete or sometimes earth and sand. A wide range of quality gabion barriers can be supplied by our company - Enzar, one of the largest companies integrating designing, manufacturing and marketing of superior galfan and PVC gabion barriers. Our company always sticks to the principle of "Responsibility is the guarantee of quality; quality is the life of the brand". So we introduce advanced equipment and employ professional designers to create cutting edge products. What we have done is to ensure our high quality product suit even exceeds every need of our customers.
Our gabion barrier products are mainly designed to solve most your safety problems. Meanwhile, strong structure and quick deployment of gabion barrier make it widely used to protect personnel and assets against threats, both natural and man-made as shown below:
Defend
Securest bastion barrier, as a variation of traditional gabion, is a lined earth-fill barrier designed for protecting personnel, equipment and other assets from attacks from terrorists, insurgents and other adversaries. So Securest is the best choice for peacekeeping in regions with ever-present threats.
Read More
Stabilize
Generally, soft soil by the river is prone to be washed away; a slope without vegetation is prone to cause mud flow in rainy season. Thus, a durable and effective soil stabilization system - Superdura woven gabion basket is needed to protect soils from erosion and scour as well as mud flow.
Read More
Decorate
No matter your new building or your dull home need some fresh element for high class or comfortable along with functional. Flexible gabions can be customized into various furniture and landscaping for your commercial and private residence functional and decorative needs.
Read More
In addition, gabion baskets play an important role in environmental protection, civil engineering and various other aspects as shown below:
Traffic noise blocking.
Road building.
Erosion control.
Slope protection.
River retaining.
Channel lining.
Foundation construction.
Shoreline stabilization.
Retaining wall.
Silt filtration.
Temporary or permanent dams
Fish screens.
Gabion stepped weirs.
Falling stone prevent.
Gabion cladding.
Gabion veneer.
Gabion planter.
Gabion outdoor fireplace.
Gabion fencing.
Why choose our gabion barrier products?
Modular & durable structure
Modular structure allows our gabion products to be stacked into various shapes and bound together to create a monolithic unit. They are extremely strong under tension and plated with excellent anti-rust coating such as heavy zinc coating, zinc - 5% aluminum coating with optional PVC coating. Thus, they are durable and long lasting. Meanwhile, vegetation can be planted to form a naturally permanent structure and increase strength at the same time.
High flexibility
Our gabion products not only feature rigid structures, but also have high flexibility, which enables them to deform rather than break when subjected to tension and compression forces. Therefore, they can conform to foundation subsidence as well as internal stress.
Superb permeability
As to traditional block retaining wall, hydrostatic pressure may buildup and result in wall cracking if they do not have a drainage system. However, the irregular surface of our gabion products will dissipate energy from flowing water and the interstitial spaces in the stone allow for free drainage. Therefore, specific drainage system is not needed any more.
Cost saving
Our gabion products provide a considerable cost saving in the following four aspects:

Our gabion products have a lower price than most construction materials.
Filling materials such as stones, sand, concrete even waste construction bricks can be purchased locally.
Easy assembly property of our gabion products effectively shortens the construction time as well as reduces labor cost.
No need of drainage system and concrete foundation.
If you want to learn more about our products or order specific products in custom designs, please email us at sales@gabionbarriers.com directly. We are more than happy to answering your questions and cooperating with you.
Bastion Barrier
Securest bastion barrier as an earth-filled defensive barrier is easy to deploy for providing great protection to personnel and prized assets.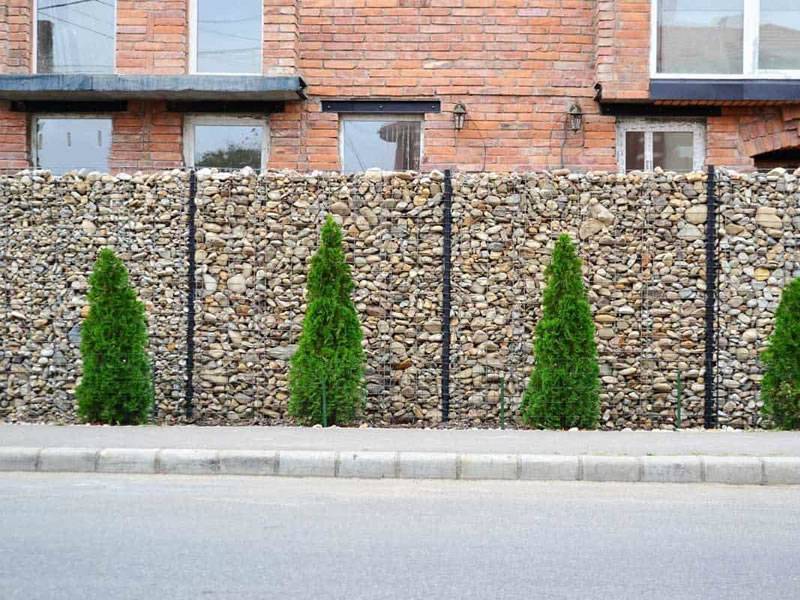 Gabion Wall
Gabion retaining wall, composed of welded gabion baskets can be quickly assembled to retain the slope in your garden, protect river bank, etc.
Gabion Planters
Weld mesh gabion planters in different designs are ideal for outdoor plant bed or gabion raised garden bed. Functional meanwhile beautiful enjoy for you.
Gabion Landscaping
Gabion landscaping is sturdy, corrosion and deformation resistant. It is environmentally friendly and it can also provide you with long-term services.
Standard Production of Gabions
Industrial and international standardized gabion box or gabion mattress production ensures accurate size, great performance and durable life.
Galfan Gabion VS Galvanized Gabion
Galfan gabion has corrosion resistance that is two or three times as good as the galvanized gabion, and it is a better choice in humid, seawater conditions.
Gabion Coating and Working Life
Galvanized, zinc-alluminum alloy and plastic coating to gabions suit for different site environments of dry or wet, low or high aggressive.